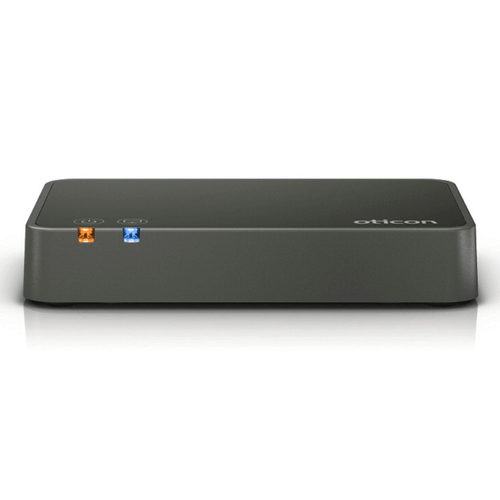 Oticon TV Adapter by Oticon (Version 2.0/3.0) by KEEPHEARING LTD
Please order version 2.0 (for use with Streamer Pro) unless you have the New Oticon OPN hearing aids in that case you require the Version 3.0.
Comes New and boxed.
Oticon Connectline TV Adapter is an amazing achievement, it provides you with high quality sound from your TV direct to your hearing aids.
Oticon Connectline TV Adapter The TV adapter works in conjunction with the Streamer Pro to wirelessly transmits the TV sound directly to the user's hearing devices. Extended bandwidth capabilities allows the user to capture full levels of sound outputs, and low delay times eliminate echo and lipsync problems. The result is a natural sounding TV experience with crystal clear sound, free of noise and artifacts.
With ConnectLine TV, you will:
enjoy a better speech intelligibility through a clear and echo-free sound quality
use the Streamer to set the TV volume to their own preferred level
switch from TV to Phone at the touch of a button
Ease of use
The TV adapter is easy to install and daily use with the Streamer is both userfriendly and secure. TV listening starts just by pressing the audio button on the Streamer.
The hearing instruments will react immediately if the phone rings and pressing the Streamer's phone button will automatically switch the sound from TV to phone so the call can be taken.
We accept following payment methods:
Debit & Credit Card
PayPal
All transactions are 100% secure.
Second Class Royal Mail delivery shipped same day if ordered before 4pm.
14 day return period if item is unopened and unused.
We are currently top rated eBay retailer due to our great prices, referral and repeated customers and excellent customer service before and after the sale.