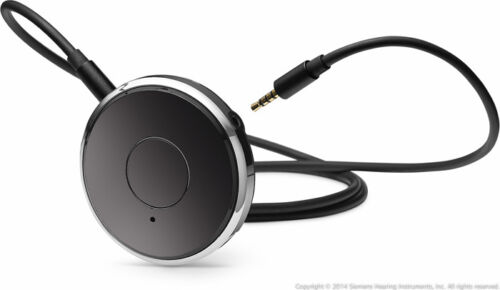 Siemens EasyTek. Brand NEW Boxed.
Whether worn on top of your clothing or hidden discreetly underneath, the lightweight and stylish easyTek connects your hearing aids to many different Bluetooth-enabled devices wirelessly. Audio from TVs, MP3 players, phones, and other sources is streamed directly into your ears. Simply enjoy listening again with easyTek and the following compatible hearing aids:
Pure, carat, Insio, Motion
Enhance your listening experience and style.
Now sound from phone calls, TV shows, or music can be transmitted directly into your ears. easyTek does this — and more! Worn around your neck, it keeps you connected and in control by streaming audio through your hearing aids or serving as a remote control. And when combined with the easyTek App for Android and iOS smartphones, you can also use your cell phone to discreetly adjust programs and volume, listen at your preferred level without disturbing others, or zoom in on the voice of a person next to you at a restaurant.
It's all in the name.
easyTek is easy to use. It transforms binaural hearing aids into a high-quality stereo headset. The smart multifunction button lets you turn easyTek on and off, answer a phone call, change listening programs, or easily switch between audio sources like music players, TVs and more with just one button.
The straightforward volume controls allow you to quickly change the volume of your hearing aids. And the easy-to-read LED lights give you important alerts, such as when it's time to recharge the battery.
Supreme connectivity.
Remote control and streamer in one small, stylish device
Transmits audio signals to both hearing aids in true stereo, at your preferred volume, without disturbing others
Bluetooth wireless line-in input and direct audio input provide connectivity to devices such as TVs, Voicelink music players, laptops, smartphones and more
Audio transmission with minimal power consumption for exceptionally reliable Bluetooth and FM streaming
Multipoint system works with two phones at once
Streams audio from two transmitters for TVs and other devices.
Easy handling.
Discreet and convenient one-touch operation with the intuitive multifunction button
Automatic situation detection and adjustment of the function and controls for streaming, phone calls, programs, and external audio sources
Correct placement for reliable operation and excellent sound quality, thanks to the neckloop antenna
We accept following payment methods:
Debit & Credit Card
PayPal
All transactions are 100% secure.
Second Class Royal Mail delivery shipped same day if ordered before 4pm.
14 day return period if item is unopened and unused.
We are currently top rated eBay retailer due to our great prices, referral and repeated customers and excellent customer service before and after the sale.