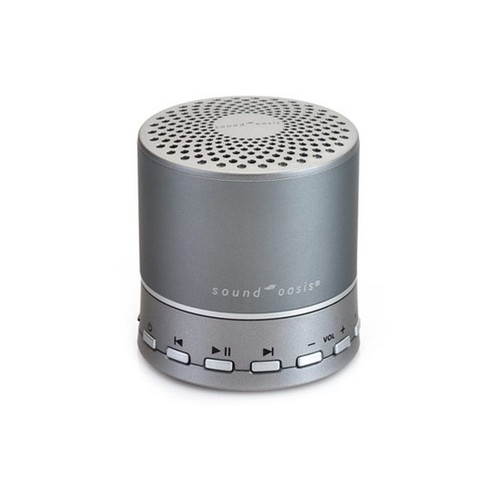 Sound Oasis Bluetooth Sleep Sound Therapy System BST-100 Sound machine & Speaker
Sound Oasis Bluetooth Sleep Sound Therapy System BST-100
Revolutionary sound machine and Bluetooth speaker in one ** New Model **
Perfect for improving sleep, blocking noise, managing tinnitus, dorms and baby's room.
Built-in micro SD card is preloaded with 10 superior quality Sound Oasis sounds. Your selected sound plays seamlessly for 8 hours.
Exceptional big bass sound, but super compact size 
(2.6" tall/2.5" in diameter/ 6.6cm tall/6.35cm in diameter) is perfect for use at home or while traveling.
Stream new sounds or music from any Bluetooth enabled device (iPhone/ iPod/iPad/MP3) for exceptional versatility.
Insert a new micro SD card with Sound Oasis sounds for unlimited sound library expansion.30'/10 m Bluetooth wireless range. Built-in rechargeable lithium battery allows for 5 - 8 hours of cordless use on one charge.
We accept following payment methods:
Debit & Credit Card
PayPal
All transactions are 100% secure.
Second Class Royal Mail delivery shipped same day if ordered before 4pm.
14 day return period if item is unopened and unused.
We are currently top rated eBay retailer due to our great prices, referral and repeated customers and excellent customer service before and after the sale.