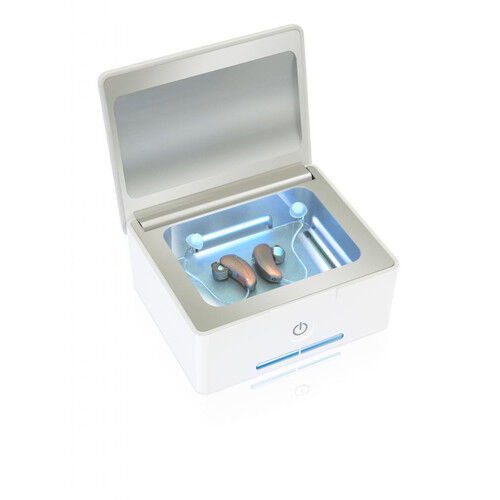 Perfect Lux Automatic Hearing Aid UV-C Disinfecting & Cleaning System
The Perfect Dry LUX System is an electronic device for the maintenance and the storage of all kinds of hearing aids. The maintenance is ensured by the combination of a forced-air fan drying system and UV-C rays for disinfection. The Perfect Dry is equipped with a lamp, which emits short UV-C rays, whose 360 degree circular disposition enables to reach all of the surfaces of the hearing aids. The UV-C rays destroy 99% of viruses and bacteria, which dramatically reduces itchiness and infections of the ear canal. The Fast and Intensive cleaning cycle is a 30 min clean at 113 degrees. For the ultimate clean and disinfection, the Perfect Dry LUX System Automatic Hearing Aid UV-C Disinfecting and Cleaning System by Quest is there to answer the call, time and time again.
- 360 Degree UV-C Lamp, Forced-air fan drying system, Quick Cycle - 30 minute
- Optimized ergonomics. Quality and sturdiness
- Low energy consumption
- Compact case and design
- USB power supply
We accept following payment methods:
Debit & Credit Card
PayPal
All transactions are 100% secure.
Second Class Royal Mail delivery shipped same day if ordered before 4pm.
14 day return period if item is unopened and unused.
We are currently top rated eBay retailer due to our great prices, referral and repeated customers and excellent customer service before and after the sale.