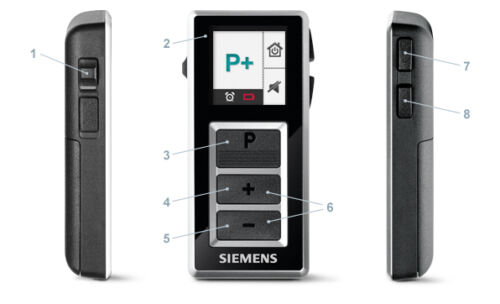 Siemens EasyPocket Remote Control. Brand NEW Boxed, by KEEPHEARING LTD
With Siemens, simple easyPocket remote control, all the options your hearing solution has to offer are placed at your fingertips. Large, convenient buttons and an easy-to-read display make accessing the features of your hearing aids easier than ever before.
Key lock switch
Slide the switch to lock the keys and protect against unintentional changes
Display
• Indicates change of listening program and volume
• Status bar (alarm, battery)
• Function of control buttons
Program change button
• Press to change current listening program
• Program change activated when pressed, even when in standby mode (allows for discreet commands, e.g. while the remote is still in your pocket)
Volume up button
Press to increase volume
Volume down button
Press to decrease volume
Auxiliary menu
Press the volume up and volume down buttons simultaneously to access the auxiliary menu
(allows you to set time, set alarm clock, view battery status and contact data)
Upper control button
Reset hearing instruments to default program/volume
Lower control button
Mute/unmute hearing instruments
We accept following payment methods:
Debit & Credit Card
PayPal
All transactions are 100% secure.
Second Class Royal Mail delivery shipped same day if ordered before 4pm.
14 day return period if item is unopened and unused.
We are currently top rated eBay retailer due to our great prices, referral and repeated customers and excellent customer service before and after the sale.