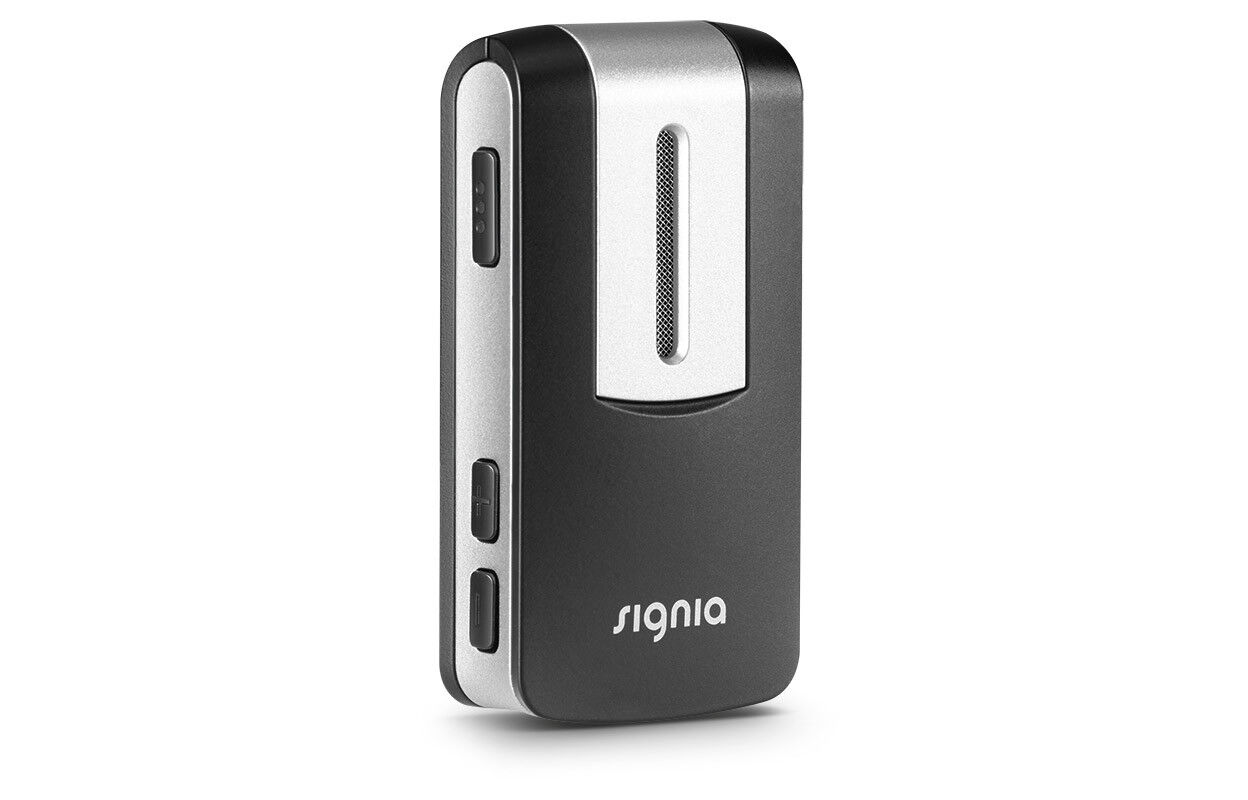 Siemens (Signia) Streamline Mic (For NX ONLY) by KEEPHEARING LTD.
Hands-free phone calls, music and more in premium stereo quality
With Signia hearing aids and StreamLine Mic, you enjoy the 4-in-1 experience :
A pair of hearing aids that deliver the sound that nature intended.
The new StreamLine Mic transforms your new Signia devices into more than state-of-the-art hearing aids. They also become a hands-free mobile headset and wireless headphones that stream premium stereo quality from any Bluetooth device – mobile phones, PCs and laptops.
A hands-free mobile headset for full convenience on the phone.
You can accept phone calls without having to take the phone out of your pocket. Even while streaming sound from your TV into your hearing aids via our StreamLine TV accessory, you can instantly take calls without having to turn off the TV sound manually. Besides, you can stream the phone call into both of your hearing aids (in case you have two) which significantly increases the quality of your conversation.
A pair of wireless stereo headphones with highest streaming quality.
This is the ideal solution if you would like to stream phone calls, music, audiobooks and more, directly into your hearing aids from any device with a Bluetooth connection.
A remote microphone for the best speech understanding in the most challenging situations.
StreamLine Mic also functions as a remote microphone to help you in challenging hearing situations, such as crowded meetings. You can stream a speaker's voice directly into your hearing aids from a distance of up to 20 meters. As a result, you hear the speaker as clearly as if he or she were standing right next to you.
And with Signia's myControl App, you can remotely control StreamLine Mic for maximum convenience.
Delivery Content:
StreamLine Mic
Lanyards (of different lengths)
Bag
USB charging cable
USB power cable & plug
Highlights
Automatic pairing with hearing aidsWireless audio streaming in stereo quality, including musicHands-free phone callsRemote microphone to help you hear a speaker in noisy situations over a distance of up to 20 meters
Rotating clip
Multi-function button
Volume up/down and program up buttons
Currently, StreamLine Mic is compatible with all Signia Nx hearing aids with Bluetooth connectivity.
The StreamLine Mic enables direct connectivity to the following devices:
– Bluetooth-enabled Android devices
– Bluetooth-enabled Apple devices
– Bluetooth-enabled PCs, laptops and older phones
For all devices mentioned above, the Bluetooth FW version should be 4.2 or higher.
The StreamLine Mic provides up to 6 hours battery runtime with full functionality, i.e. continuous streaming.
Full charge takes approximately 2 hours.
The StreamLine Mic can be charged via USB or usual plug-in (all necessary cables are included in the package).
The charging status can be followed very intuitively via the different colors of the device's power status indicator.
We accept following payment methods:
Debit & Credit Card
PayPal
All transactions are 100% secure.
Second Class Royal Mail delivery shipped same day if ordered before 4pm.
14 day return period if item is unopened and unused.
We are currently top rated eBay retailer due to our great prices, referral and repeated customers and excellent customer service before and after the sale.